Every hour that you spend on spam emails instead of spending it on your business, is a dollar loss that you may never get back. Simply because your day was made busier filtering out your emails than answering those that need urgent responses.
We've compiled some email spam statistics to show just how big this phenomenon has become over the years.
Email Spam Statistics Key Findings
Spam campaigns exploiting the COVID-19 pandemic have become rampant. The most common technique, according to Symantec, is snowshoe – using multiple IPs and domains for spam campaigns in an effort to avoid detection.
In CLDY, about 15% of all emails coming in are spam emails and get rejected.
5.9% of spam emails were actually scams/frauds/phishing emails
Email spam costs businesses $20.5 billion every year worldwide.
As many as 85% of all organizations have been targeted by phishing scams in 2021.
SPAM Statistics
More spam emails originate from the United States than any other country to CLDY servers.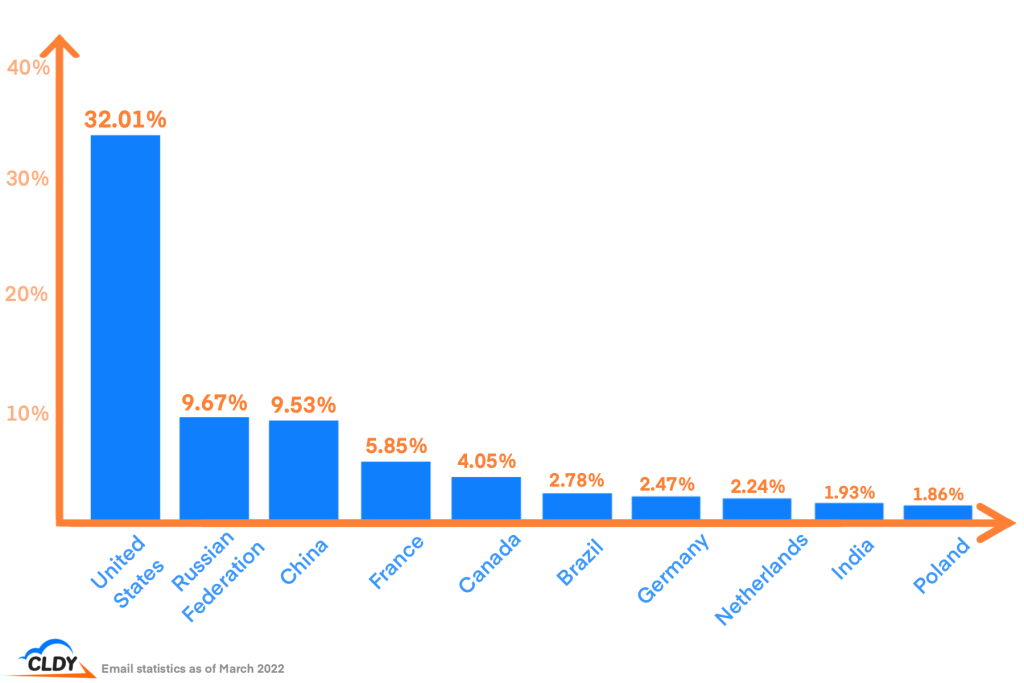 More than 30% of spam emails come from IP addresses in the United States alone. IP addresses of spam emails originating from Russia, China, and France, are in lower numbers but are still a significant statistic. Looking at it, this means that for every 10 emails tagged as spam, just about half of those are from these countries mentioned.
CLDY filters 350,000 emails on average every month due to spam.
With CLDY's SpamShield technology, we are able to identify that 14.81% of all emails sent to our servers in February 2022 were spam emails, and were actively rejected before they reach our clients.
5.9% of spam emails were reported to be scams/frauds/phishing emails with CLDY's AntiScam technology, we found that 5.9% of spam emails were actually scams/frauds/phishing emails. These email signatures are learnt by our machine-learning solutions and automatically filtered for CLDY clients.
An individual receives 8.3 emails on average on a daily basis.
Email is not dying. As the most established form of business communication, email has been seen to be growing. In fact, on average, a CLDY customer receives 8.3 emails on average on a daily basis. This further emphasises the need for a watertight anti-spam and anti-scam solution, which is why we're investing and developing our AntiScam and SpamShield technologies for our clients.
The United States is home to 7 of the world's top 10 spammers.
(Spamhaus)Below is a list of the most persistent spam companies in the world:

Blaze Media Solutions
PredictLabs
Sphere Digital
RR Media
Cyber World Internet Services
e-Insites
Kobeni Solutions

They are all based in the United States, and together they are responsible for distributing tens of millions of spam emails per day.

Statistics about email spam show that ads and chain letters are the most common spam types.
(Gatefy)Classification of campaigns sent via email points to seven distinct categories. Besides spam email accounts sending ads and chain letters, other categories include:

Phishing
Hoaxes
Money scams
Malware warnings
Adult content.
There are 5 main groups of spam. (Avast)
Spam trends show these categories all have the same purpose. The division relates to the way spam reaches you. Said categories are:
Email spam
SEO spam
Content spam
Link spam
Social networking spam
Mobile spam
Messaging spam
Spammers will try to reach your inbox via every means of communication. Some types are harmless, often used as spam advertising. Others, however, can be dangerous, especially those with links to unsafe web pages. They can infiltrate your device and either steal relevant information or insert malware.
94% of malware is delivered via email. (Verizon)
An investigation of malware concluded that a whopping 94% used email as a delivery method. These statistics about email spam show just how dangerous it can be to engage in such instances. The most common spam emails include an attachment, with 45% of malware files being Office doc files. At 26%, Windows apps were second, as another type of malware delivery through spam mail.
Spam email sites earn senders around $7,000 per day. (GroupMail)
Bulk-mailing spam is a job for specialists – third-party companies that send emails on behalf of the product or service that is being advertised. The sender gets paid simply for sending messages, regardless of whether recipients buy any of the advertised products.
FAQ
What percentage of email is spam?
Spam folder statistics suggest that 85% of marketing emails bypass spam filters and arrive in users' inboxes. Although most email users prefer that mail related to advertising be sent directly to spam, the messages are generally harmless and a legitimate means of doing business.
What percentage of email traffic is spam?
Spam accounts for 85% of the total email traffic worldwide. Spam tests conducted by Talos Intelligence suggest that the number actually represents a slight decrease compared to 2020 but shows a tendency to grow even further.
How much spam is sent daily?
From our daily server statistics, about 22,000 emails on average are either marked as spam or rejected completely.
Why is spam dangerous?
Malware, ID theft, scams, phishing – you name it. While most spam is just annoying and time-consuming, about 2.5% of it can do some serious damage.
The worst spam emails try to trick you into disclosing bank details, allowing scammers to withdraw money or steal your identity. Phishing attack statistics suggest that as much as 73% of malware-infected spam mail is intended for identity theft.