What Does SPF Do?
An SPF record (Sender Policy Framework) is a way for you to secure your email settings, in which only authorized hostnames and/or IP addresses are the only ones who can send emails for you. It helps you protect your domain emails from security attacks such as spoofing and phishing. To create an SPF record, follow the steps here:
How To Create An SPF Record?
Take note of these set of characters:
v=spf1


This is how your SPF record will start.
Next, add the IP address/es you will be authorizing. Here's an example:
v=spf1 ip4: 192.0.1.100
You can add multiple IP addresses as you prefer. An example would be:
v=spf1 ip4: 192.0.1.100 ip4: 192.0.1.101
To authorize a third party, add the following:


include:thirdparty.comFor the tags, choose between:
~all (soft SPF fail)
–all (hard SPF fail) (recommended for better restriction/authorization)
?all (neutral / no setting)
The final record will look like this:


v=spf1 ip4: 192.0.1.100 ip4: 192.0.1.101 include:thirdparty.com –all
If you would like an SPF record that unauthorizes a domain to send emails, here's the text you should use:
v=spf1 –all
How To Set Up An SPF Record?
Once you have your SPF record ready, you can set it up under your domain.
1. First, log in to cPanel.
2. Under Domains, click on Zone Editor.

3. On your selected domain, click on Manage.

4. The next page will show all DNS records for that domain. To add an SPF record, click on the dropdown box for Add Record, and select Add "TXT" Record.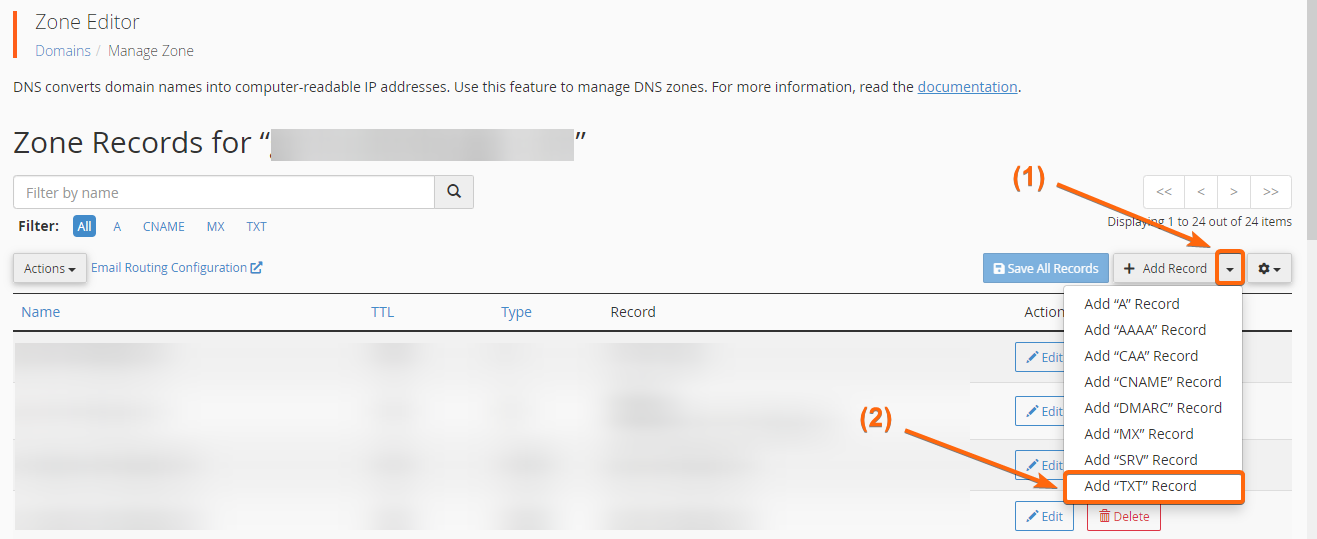 5. Fill out the required details:

Name: Your domain name (do not include the "www.")
TTL:  14400
Type: TXT
Record: Paste the created SPF record here
Once done, click on Save Record.

6. Check your SPF record using an SPF check tool. This is simply an additional step to make sure that the SPF record was successfully created. You can also check if there are any IP addresses on the list that you do not recognize, or any IP addresses that you need added.