It's a common question: "How much space does my Outlook mailbox take up?" If you're not sure, you can find yourself in a difficult position of having a full mailbox and unable to receive important emails.
The good news is there are simple steps to determine how much storage space you have in your account. 
Outlook on Desktop
1. On your desktop app for Outlook, click on your account (to make sure you are looking into your specific mailbox storage in case you have multiple accounts logged in).
2. From the top menu bar, go to Folder and click on Folder Properties.
3. At the next window, click on Folder Size…
4. You will then see the current size of your Outlook mailbox.
Outlook on Web Browser
1. Log in to your Outlook webmail.
2. Once you are logged in to your Outlook mailbox, click on the gear icon at the top right of the screen.

3. The Settings menu will slide in from the right. From here, click on View all Outlook settings.

4. Go to General, and click on Storage. The next pane should state the size of your Outlook mailbox and how much storage you have already used up.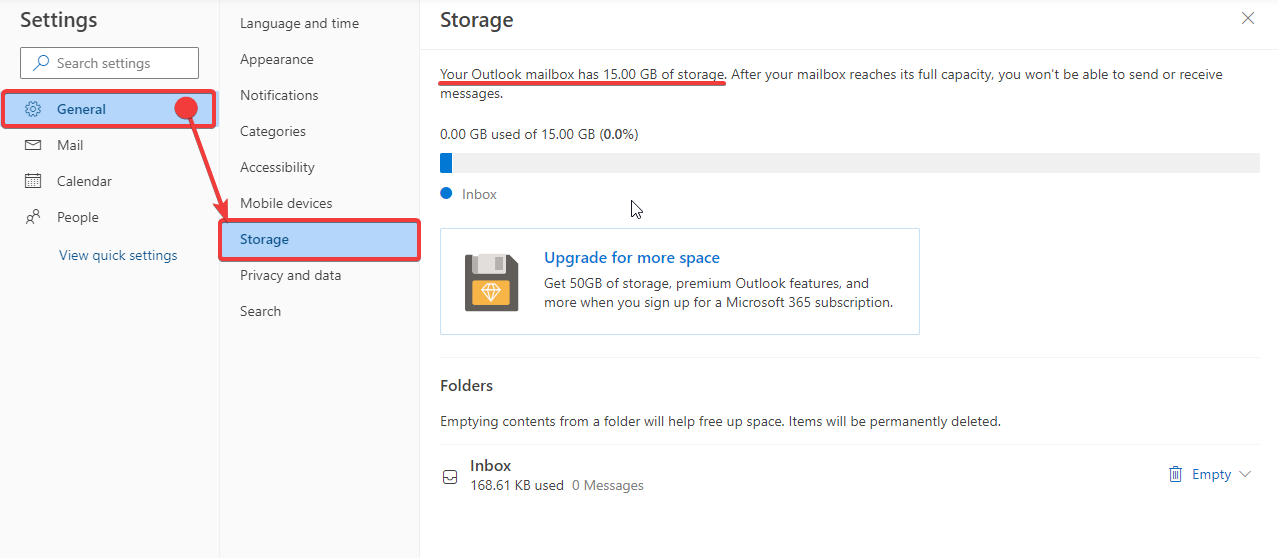 When it comes to email, being on top of things is essential. You want to know when your Outlook mailbox gets full and what you can do about it. 
If your domain-specific email is linked to Outlook and you need further assistance, contact us here.