We are committed to bringing you simplicity in management, business scalability, and high performance exhibited by our guaranteed 200% uptime and boosted speed that will escalate you to the next level.
Our WordPress Ingredient equals your success
Our WordPress Solution equals your success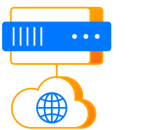 Perfect for blogs or small sites
1 Website
40 GB Storage
Daily Backup
Unlimited Mailbox
5 Add-on Domains
Advanced Incoming AntiSpam
Website Speed Optimization
Complimentary SSL
Support Basic WordPress
Support Cloudflare
WordPress Management
WordPress Acceleration
Easy-to-use CPanel
24/7 Support

Money-Back Guarantee

Ideal for growing businesses
3 Website
80 GB Storage
Daily Backup
Unlimited Mailbox
10 Add-on Domains
Advanced Incoming AntiSpam
Website Speed Optimization
Complimentary SSL
Support Basic WordPress
Support Cloudflare
WordPress Management
WordPress Acceleration
Easy-to-use CPanel
24/7 Support
Money-Back Guarantee

Great Performance and Reliability for big businesses


4 Website
120 GB Storage
Daily Backup
Unlimited Mailbox
20 Add-on Domains
Advanced Incoming AntiSpam
Website Speed Optimization
Complimentary SSL
Support Basic WordPress
Support Cloudflare
WordPress Management
WordPress Acceleration
Easy-to-use CPanel
24/7 Support
Money-Back Guarantee
Why CLDY
We're experts in the field of WordPress
A bold declaration that guarantees only the best!
30% more speed for your website
We have trusted servers hosted only on the most stable and up-to-date SSD hard drives across the globe, where there are multiple redundancies and fail-safes in place. Because we make sure your websites are fully optimized, you can trust that they run in a lean and agile manner. Our expert system administrators will optimize backups, redundancy, and fail-safes on a regular basis.
200% Uptime protection for your online business
Stability is what our clients keep coming back for in CLDY. We guarantee that your websites will stay up 200% all the time.
We only have the market's bleeding-edge best technologies putting multiple redundancies across the globe which are hosted by industry-standard infrastructure.
This is the reason why we maintain top-notch, world-class Stability and Security for your WordPress Hosting.
Here at CLDY, our clients are our top-notch priority, with technical support provided 24 hours a day, 7 days a week.
Contacting us is simple and easy, whether by email, call, or Whatsapp, where we are available round-the-clock. We make sure that you get a hassle-free and truly memorable experience with our Cloud Products with the guidance and supervision of the most technically competent web hosting and Cloud experts the industry can offer.
Jumpstart your WordPress Hosting with the best simplicity, rock-solid speed, and top-notch security to manage your online website
WordPress Toolkit/ Control Panel
Get a feature-rich management interface that allows the installation, configuration, and management of WordPress websites including:
Admin and database password management
Search engine indexing management
Single sign-on functionality
Automatic security hardening
Plugin and theme set management
Staging and cloning functionality
Mass automatic and smart updates.
With an SSL Certificate in place, HTTPS protects page authenticity on all types of websites, secures accounts, and keeps user communications, identity, and web browsing private.
We provide a 14-day backup of your site environment's files, database, redirects, and Nginx configuration at the time the backup was created.
With CLDY, we make sure your website is secure with our built-in SpamShield, which has a 99% accuracy rate in clearing spam, saving businesses time and money, and allowing business owners to focus on what matters most: their business.
With our mean streak for speed, you wouldn't worry about loading time as it only takes mere seconds thanks to our commitment for 130% speed. This means more engagement and revenue as well as scoring higher in search rankings.
Free WordPress Divi Themes
With Divi themes, you've never built a WordPress website like this before. Divi is a completely new website-building platform that replaces the standard WordPress post editor with a vastly superior visual editor. It is enjoyed by many design professionals and newcomers alike. Get the power to create spectacular designs with ease and simplicity.
Riveting Server Features Complementing your WordPress Plan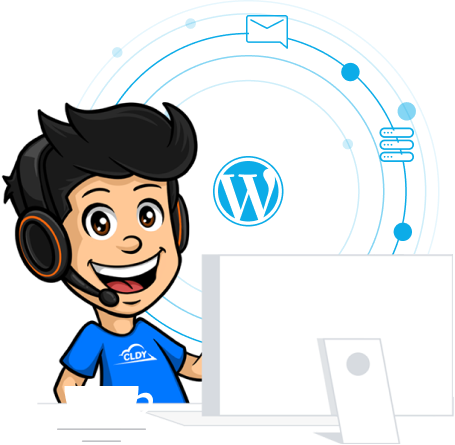 Enjoy cutting-edge technology storage only from CLDY. SSDs used flash-based memory, which is much faster than a traditional mechanical hard disk. It's one of the best ways to speed up your server.
CLDY provides an Unlimited Mailbox giving you personality to your business.
LiteSpeed Web Server is known for conserving resources without sacrificing performance, security, or compatibility. With this server, you can double your maximum capacity, eliminate the need for a 3rd party caching layer and get support for cutting-edge technologies like HTTP/3. This is done all in 15 minutes with zero downtime.
Generous Resources Allocation
Our plans have generously larger disk space and memory, ideal for WordPress hosting.
Get a free digital certificate that authenticates your website's identity and enables an encrypted connection.
Our Satisfied Customers
Listen to what our clients have to say:
Best of the Best Hosting so far in Singapore. After trying out so many hosting providers, CLDY is still the best.
Boon Hou Julio Lim
Business Consultant - Lazy Limited
I never had a service like this before, always in the right time giving the right advice! Reasonable pricing too.
Glenn Zhang
Author - Obedience
CLDY web hosting is fast. Highly recommended!
Leo Chan
Managing Director - RFT Marketing Pte Ltd
I was a vodien customer for years. However, their services were not like before. I saw CLDY.com and found out that John was formerly from vodien. I migrated my websites over. John is very attentive and responsive. The migration was smooth and he also helped to solve some of my problems.
Gina Lim
Huttons Asia Pte Ltd
We have had an overall pleasant experience using CLDY's services. The rendered services were reliable we have never faced disruptions or downtime since using their services. Junk mails received were also minimal. We trust CLDY as a safe service provider for our business and one that can respond reactively in any situation.
Ms. Lam
HR & Finance - Manager Thermal Tech Pte Ltd
Dear CLDY Team, On behalf of Omnixus Works, I would like to thank CLDY team of professionalism and skillful of IT knowledge in helping us to fulfil our customer needs. We are able to meet our customer's expectations and requirement using CLDY cloud based solutions. Well done and keep it up. Works together to serve happy customer. Thanks!
William Chong
Management Representative - Omnixus Works Pte Ltd
Dan's company,Cldy. Singapore came recommended as I was facing issues with my company's email accounts. Dan came to our rescue, managed to pin point the issues and reassured me on the steps he was going to do to ensure that we would have a smooth transition moving our email server over to him. The quality service Dan had provided has convinced me that it is well worth it.
Josephine Oei
Partner - Tony Oei and Company
Writing this to express my deepest appreciation for what CLDY had helps our web site migration smoothly and effortlessly. The hosting service is excellent and zero down time. Our emails and web site performance is perfectly serving our world-wide clients and suppliers perfectly. Well done CLDY once again.
William Chong
Mii Foodservice Pte Ltd
Competitive pricing coupled with amazing speeds, and to top the cake, a support team that responds quickly and accurately. Signing up with CLDY has been a blast.
David Leisinger
Co-Founder and Art Director - Crashtest Theory Pte Ltd
Not satisfied with our service?
No worries! We have a 30-day Money Back Guarantee that's sure to give you peace of mind. Just let us know and we'll give you a refund.
No questions asked.
Frequently Asked Questions
WordPress is a content management system (CMS) that allows you to host and build websites. It contains plugin architecture and a template system where you can customize any website to fit your business, blog, portfolio, or online store. 
WordPress is popular and has powered more than 60% of all websites making it the most widely-used website-building platform on the market. The great things about WordPress are two things: User friendly and open source. You don't need to code and you can build on top of the core software and create a website according to your liking.
What is WordPress Hosting?
WordPress hosting is a shared hosting service configured and optimized for WordPress sites. At its center, it works just like any other web hosting- provisions of webmasters, a service space to store and publish website files.
The only difference is with WordPress Hosting, it specifically offers WordPress features such as an instant installer. With this, you won't have to manually install WordPress on your hosting plan. This installer will automatically set up the software for you, providing you with ready tools to build and publish your WordPress website in the nick of time.
Managed WordPress Hosting is dedicated solely to sites running WordPress. A hosting provider like CLDY manages these sites so you can get the most out of its many features. Hosting providers often manage WordPress hosting as one of their many hosting options that also include shared and VPS hosting.
In comparison, Shared Hosting is an inexpensive hosting plan alternative for new sites and small sites on a tight budget. This kind of hosting keeps costs low by parking hundreds and sometimes thousands of websites together on a single server. To get started, hosting providers typically make a variety of website builders and CMS options which also include WordPress available for installation on a new site.
What is Managed WordPress Hosting?
CLDY offers a dedicated WordPress hosting service with hosting, servers, and operating system specifically configured to maximize the performance and functions of WordPress on all kinds of sites.
Do you provide any Guarantee?
We have a 30-day Money Back Guarantee that's sure to give you peace of mind. Just let us know and we'll give you a refund.
How do I make a WordPress Website?
Here is  a quick guide on how to start your WordPress Website:
Pick a domain name using our domain search. 

Get our WordPress Hosting and choose from our awesome plan. 

Install WordPress with just one click

Be transported to your WordPress Dashboard and pick your WordPress plugins. 

Build and Customize as desired