If you are looking for excellent telemarketing services to expand your clientele list in Singapore, you have come to the right place. In this blog post, CLDY will be listing three of the best firms in the country. Each of these companies has a proven track record of delivering results and providing excellent customer service.
So, if you are looking to outsource your telemarketing needs, read on!
1. Callbox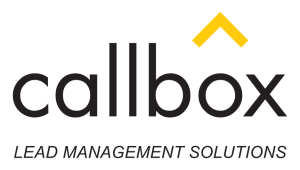 Website: https://www.callbox.com.sg/telemarketing-services-singapore/
Services: Lead generation and telemarketing, event marketing, webinar and virtual event marketing
Generating quality leads can be a challenge, especially if you're targeting a specific market. With Callbox's B2B lead generation and Singapore telemarketing services, you can acquire the leads you need to grow your business. Their full suite of marketing solutions can help you identify and connect with your target market.
While they are a Singapore-based telemarketing firm, they also tap into the Asia-Pacific to get your business out on a global scale. Start outsourcing B2B telemarketing services from Callbox and grow your customer database with high-quality prospects.
Just take a look at their clients who have everything good to say about their global telemarketing services: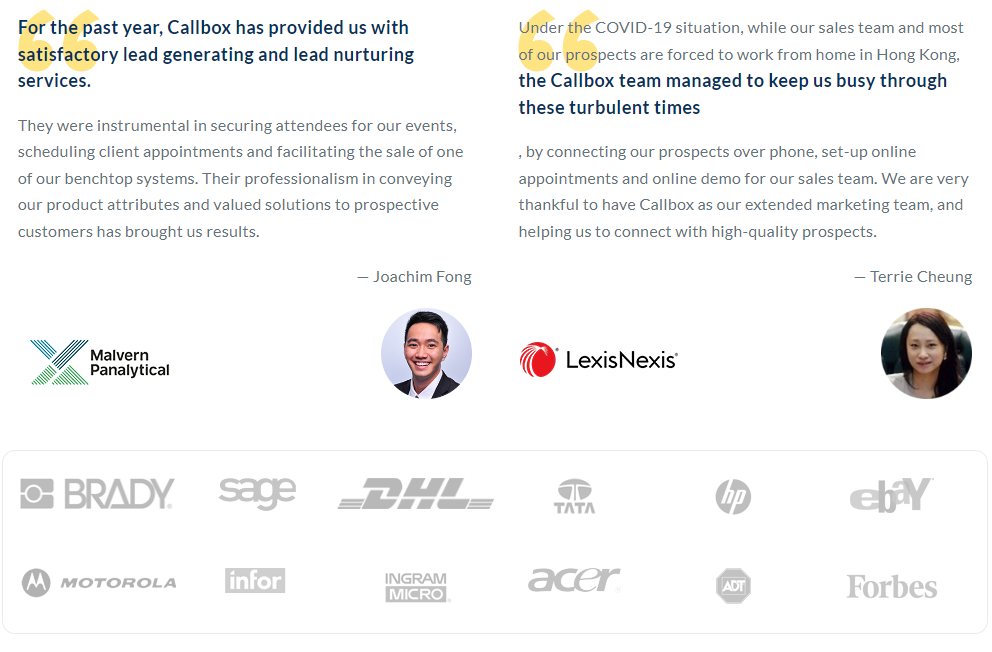 These images are taken from the Callbox site
2. Star CRM
Website: https://www.starcrm.com.sg/telemarketing
Services: Telemarketing services, data and analytics, loyalty management services, digital marketing services
As a leading provider of telemarketing services for small businesses, Star CRM offers both inbound and outbound telemarketing services. They provide seven multilingual skills covering English, Mandarin, Cantonese, Bahasa Malaysia, Tagalog, Hindi, and Tamil. With a proven track record of exceeding KPIs for clients across Asia-Pacific, Star CRM is your partner of choice when outsourcing telemarketing services.
Star CRM can help you with assisting customers with appointments, boosting your sales pipeline, and so much more with their experienced team and state-of-the-art telemarketing platform.
One of their global clients is Shell, and here's how they have enriched the company's service coverage and support through their multilingual telemarketing services: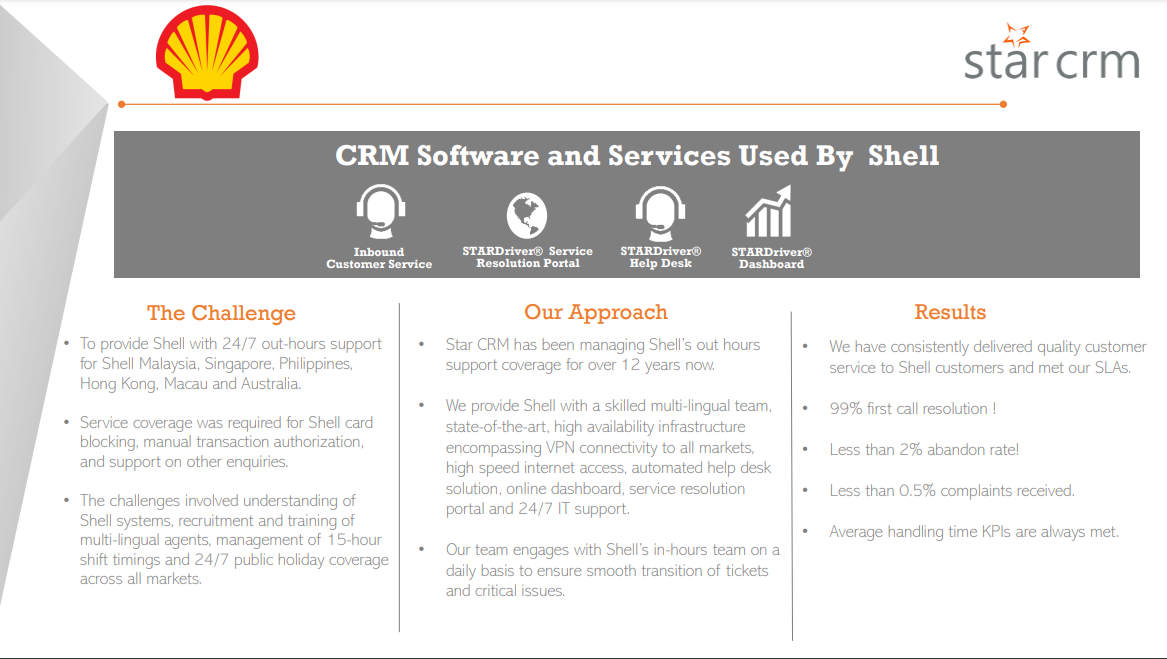 These images are taken from the Star CRM site
3. Scenes City Telesolutions


Website: https://www.scenescitytelesolutions.com/
Services: Appointment setting, lead generation, debt recovery and collection, customer care support centre, office live receptionist, and more
Scenes City Telesolutions has been one of the fastest growing customer acquisition companies in Singapore, due in large part to the different types of telemarketing services that they offer.
The company offers an array of telemarketing skills, including lead generation, appointment setting, event marketing and registration, and both inbound and outbound contact centre services. In addition, the company also provides a number of value-added services, such as digital marketing, including email campaigns, social media management, and Google PPC.
The company's professional telemarketing has been designed to help its clients acquire new customers and grow their businesses by going above and beyond expectations. Their long list of clients proves that Scenes City Telesolutions is one of the most trusted telemarketing providers in Singapore.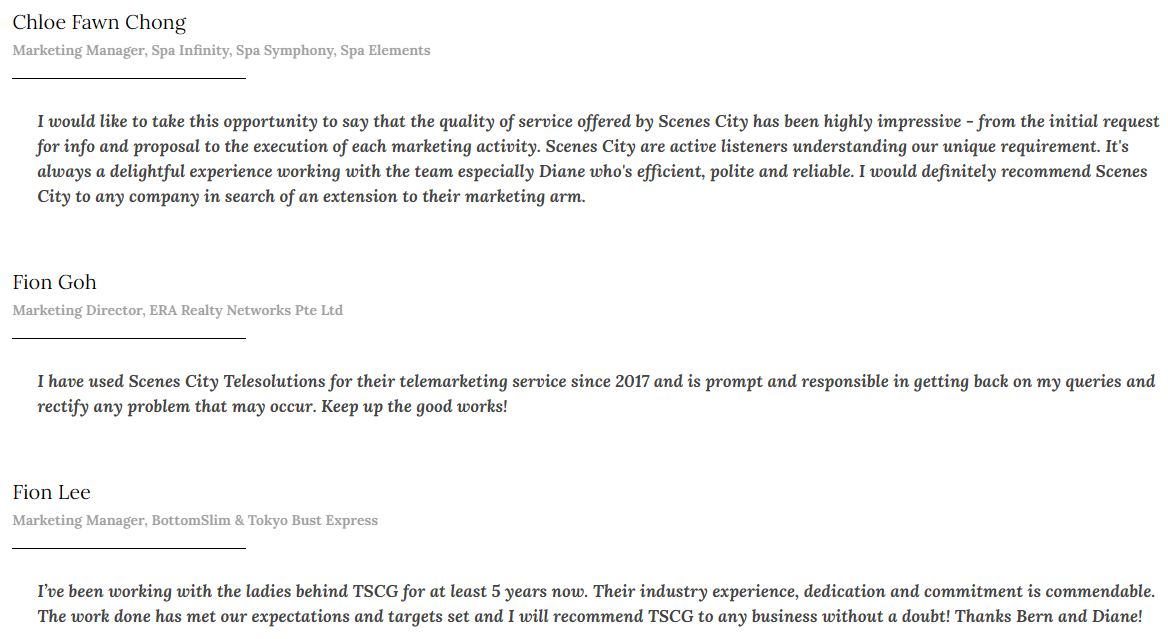 These images are taken from the Scenes City Telesolutions site
Conclusion
If you are looking for a reliable and reputable telemarketing firm in Singapore, then we highly recommend the three firms we have listed. These companies make it their mission to deliver quality telemarketing services, and they will be able to help you achieve your marketing goals. Partner with one of them today and see your business grow.