When you talk about acquiring SEO services, you think about the need to optimise your website for a higher search engine ranking. The process involves improving site content, on-page optimization, and off-page optimization. This field is constantly evolving, and there are new practices being added everyday to ensure that your site is seen as the best possible option for internet users. SEO is an integral part of online marketing. If your website ranked higher in search engine page results (SERP), that would mean more traffic, an interested audience, and customers to close.
If you're on the lookout for a professional agency to help you with SEO services and campaigns, here are our top 4 options:
1. Verz Design

Website: https://www.verzdesign.com/our-services/marketing-services/seo
Specialisation: Copywriting, SEO, SEM, Web Development, Branding, PSG.
Clientele: Singtel, Sharp, Panasonic, Hitachi, Singapore Airlines, DBS, National University of Singapore, Gong Cha, Tiger Balm, and more
According to Verz Design, "The best place to hide a dead body is on Page 2 of Google Search Results." Because if your site is not listed on Page 1, it means your SEO is not working to your advantage. This SEO company in Singapore gives the big talk and finishes with big, impactful actions, helping their clients reach page 1 ranking with a percentage of selected keywords.
In fact, to prove their point that they're the leading SEO in Singapore, all you have to do is type in "website design in singapore" on Google and you will find Verz Design ranked high on page 1 of the search results.
Just look at what Adam Chua, one of their clients, has to say about their SEO services: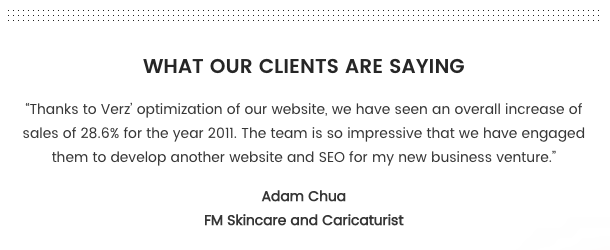 2. MediaOne Marketing
Website: https://mediaonemarketing.com.sg/seo-agency-singapore/
Specialisation: SEO, SEM, Social Media Marketing, Lead Generation, Social Media Marketing, Branding, Web Design
Clientele: Oakwood Studios, P&G, Intercontinental, Ninja Van, Whirlpool, Singhaiyi Group, Old Chang Kee, and more
MediaOne offers a complete range of marketing solutions for their clients. Their main clientele ranges from SMEs to larger corporations, both locally and internationally. This SEO agency works to optimise your website technically, building its popularity from the ground up by providing engaging content so that search engines rank your web page.
This top SEO agency in Singapore targets its audience as if it's an online shopping experience, starting out with a simple query on the search engine. As people search for these key terms on search engines, these simple keywords propel you to the top of the first page if done right. With MediaOne, Singapore's best Google SEO agency, you can be assured of a dedicated team of professional SEO experts who will stop at nothing to ensure your campaign generates long-term, scalable results.
Their transparency with their SEO services is one of the things that makes MediaOne stand out among the rest: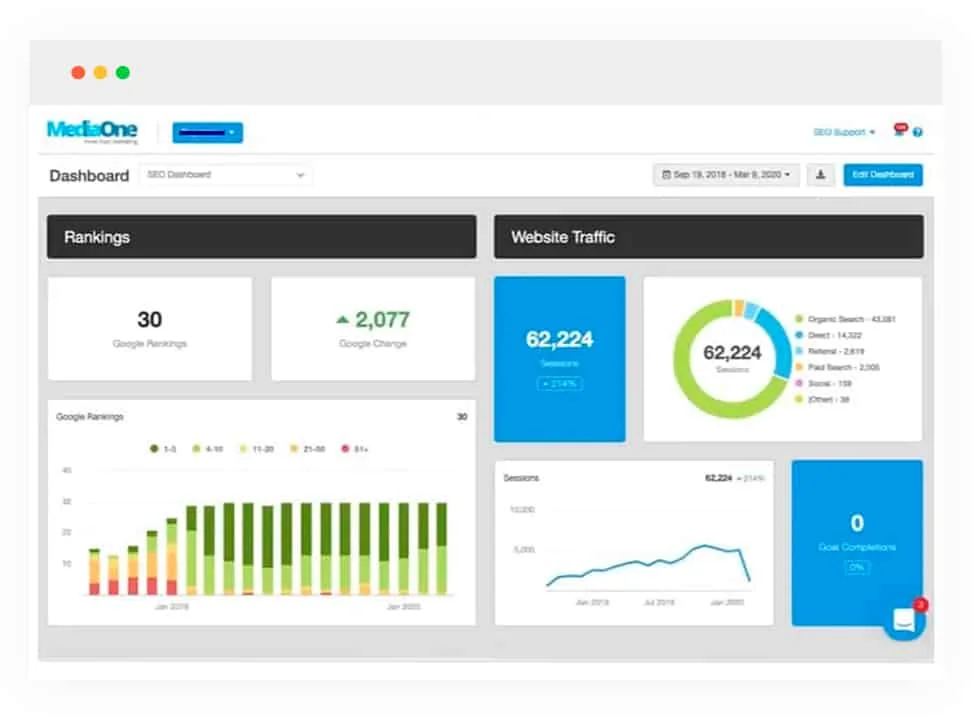 3. iClick Media

Website: https://www.iclickmedia.com.sg/seo-services-singapore
Specialisation: Search Engine Optimization, Website Design and Development, Social Media Marketing,
Clientele: EU Holidays, Nanyang Technological University Singapore, CIC Travel, Singapore Airlines, Diner's Club International
iClick Media was established in 2009 and proudly shares the distinction of being one of the few to achieve both Google and Yahoo/Bing Certified Partner Status in Singapore. This Singapore Top Google SEO Agency has 2 offices in Singapore and 1 in Jakarta, Indonesia. One of their main assets when it comes to search engine optimization is applying the most ethical and effective SEO techniques so that you can rank higher on Search Engine Pages. This is Singapore's Best SEO Agency, as proven by its recently received award from TOPSEOS as the Best SEO Agency in Singapore.
Clients can rest easy knowing that each member of the iClick Media team is required to pass the Google Advertising Professional exam. As a result, it's safe to say that the SEO strategies provided by this team of professionals demonstrate that they value your time and promise unparalleled success when working with them.
Here are just a few of their clients:
4. Activa Media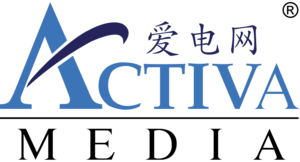 Website: https://www.activamedia.com.sg/solutions/search-engine-optimization-seo/
Specialisation: Strategic Consultation, SEM, SEO, Social Media, Website Design and Development, Google Display Network, Youtube, Tracking Technology
Clientele: Godwin Campos LLC, Nation Employment Pte Ltd, LL Cheong Skin & Laser Clinic, and more
Active Media Pte Ltd has been providing diverse internet marketing services in Singapore since its inception in 2005. This SEO company in Singapore is on a mission to create value for SMEs through online marketing solutions. They've come a long way since their early years in a small rented room. Today they've expanded their activities outside Singapore's borders to Malaysia, diversifying their offers starting from speciality which is SEO marketing, SEO, Social Media Marketing, and Site development.
What sets them apart in SEO development is their dedication to innovation and the ethical practice of white hat tactics. Though already a big company, the CEO gives personal attention to each customer, putting her personal touch and ideas to work so that her clients will reach new heights.
These testimonials from their clients prove how their SEO services have geared businesses towards a strong online presence: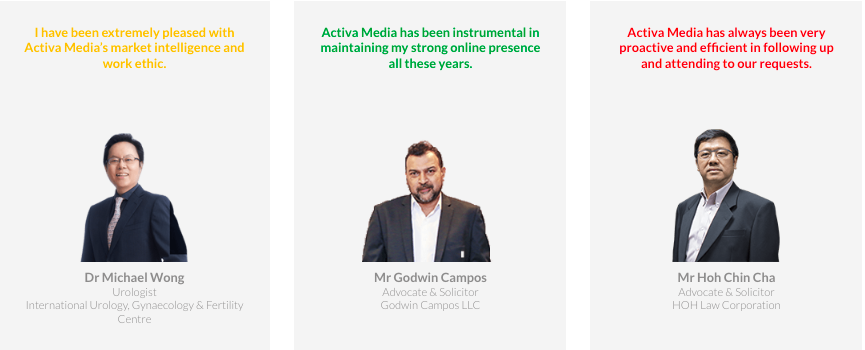 Conclusion
The best SEO practices are carried out with scientific and systematic approaches, which our top SEO Agencies have proven to do in their own field. The majority of clients who want their businesses to be discovered go the SEO route because results are easily measured. And with that, CLDY leaves you with the best list to choose from.
Tips:
One of the SEO ranking factor is website speed, with CLDY Web Hosting, you are assured your Speed is well taken care for.