When starting a new website, you'll need to register a domain. While it might sound like jargon at first, the domain registration process is straightforward and can be done on your own.
In this guide, we'll walk you through everything you need to know about domains and the different steps to check a domain's availability. We'll also cover how you can easily register your business domain.
Domains: Definition and how to create a domain name for your business
In the simplest sense, domains are the string of text that users type into a browser to reach a website or web page. For example, you probably typed in CLDY.com to get to our website. If you came from a search engine, then you typed Google.com on your browser.
Without domains (and domain name servers), users would have to memorise complex IP addresses to visit websites. Domains make it easy for people to remember and visit your website. 
Key components of a domain
Different sources will tell you that domains are split into two parts, while others will say there are as many as seven. As we're trying to understand domains at a beginner level, we'll only highlight three main parts: a subdomain, a second-level domain, and your top-level domain.
Let's say you own business.wordpress.com, business is your subdomain, WordPress is your second-level domain, and .com is your top-level domain. 
Subdomains sit right before your second-level domain. Its purpose is to organise websites and separate a section from your main site, making it easier for users to find what they need.

There are many subdomains available — from

blog, shop, and docs

to the most widely-used subdomain www, which stands for World Wide Web.

Second-level domains are perhaps the prominent part of a domain. It's positioned before your TLD and helps identify your website. If you're a business, you are likely to use your brand name on your second-level domain.

Top-level domains are at the very end of your domain. They can be generic or gTLDs like .com, .org, .net, sponsored or TLDs like .edu, and country code top-level domains like .au, .ca, and .sg.
Choosing a domain for your business
Now that we've given an overview of domains, it's time to pick the right domain for your website.

Your domain plays a vital role in branding, it builds awareness and invites customers to check out your website. 
In addition, domains help you increase your search engine rankings. As you grow your website and put out quality content, your domain gains authority on search engines like Google. This in turn drives more customers to your business.
With all that said, we'll explore how to create a domain for your business: 
Keep it short and simple.

Avoid hyphens, unnecessary symbols, and numbers.





So how long is

too

long? Experts recommend you keep it 20 characters max. The shorter and more concise, the better.
Stay on brand.

As much as possible, keep your business name and domain identical. If it's no longer available, you can add your location.





For example, if yourbusiness.com is no longer available, go for an alternative like yourbusinesssg.com instead.
Go for a .com extension first.

A .com extension is the most popular TLD in the world. But if that's not available, a .org., .co., or .net is a good alternative.

 
Do a trademark search.

You might have settled on a domain, and registered it…only to find out that it's been trademarked. Save yourself the hassle and run a trademark search before registering a domain.

 
Register your domain in 3 easy steps
When registering a domain, you'll come across the terms registrant, domain registry, and the domain registrar. Let's explore them one by one:
Registrants

are individuals, organisations, or businesses who register a domain. In other words, that's YOU!

The

registrar

serves as the middleman. It's an accredited organisation that registers your domain with a registry. CLDY, for example, is an ICANN-verified registrar.

ICANN

, in a nutshell, is a non-profit organisation that manages the domain name system.

A

domain name registry

oversees the administration of top-level domains. When you apply for a .sg domain, for example, your application is subject to SGNIC's policies and procedures guidelines.
Now that we've familiarised ourselves with the different terms, let's look at the steps in domain registration. 
1. Select a domain registrar
You'll find thousands of domain registrars on the web, each offering one enticing deal after another. It is also common to come across registrars that offer other services like web hosting.
So with all these choices in front of you, how do you settle on a single registrar?
Look for privacy.

Upon registering a domain, your personal or business information gets displayed publicly on the WHOIS database. This includes your physical address, phone number, and email address. The biggest downside of publicising your information on the web is that it makes you vulnerable to spam and identity theft.



When choosing a domain registrar, ensure that they offer a service called domain privacy. Domain privacy replaces your information on WHOIS with your registrar's information. This is totally legal and a common practice among businesses looking to protect their business information.

Cost. Most registrars offer domains at a low cost, only to charge you ten times the amount when you renew. So, make it a practice to read the terms and conditions first. Legitimate registrars are upfront about their pricing.

Domain transfer. There are many reasons people choose to transfer their domain. For one, there could be a change in website ownership. Another common reason is that you could be unhappy with your domain registrar and want to explore another option.


No matter the reason, a registrar should allow you to seamlessly transfer a domain.
2. Run a domain search
Settled on a domain name? Now comes the daunting part, it's time to check if it's available. 


Run a domain search by typing your desired domain on a search bar from CLDY. The system then lets you know if the domain is available or not.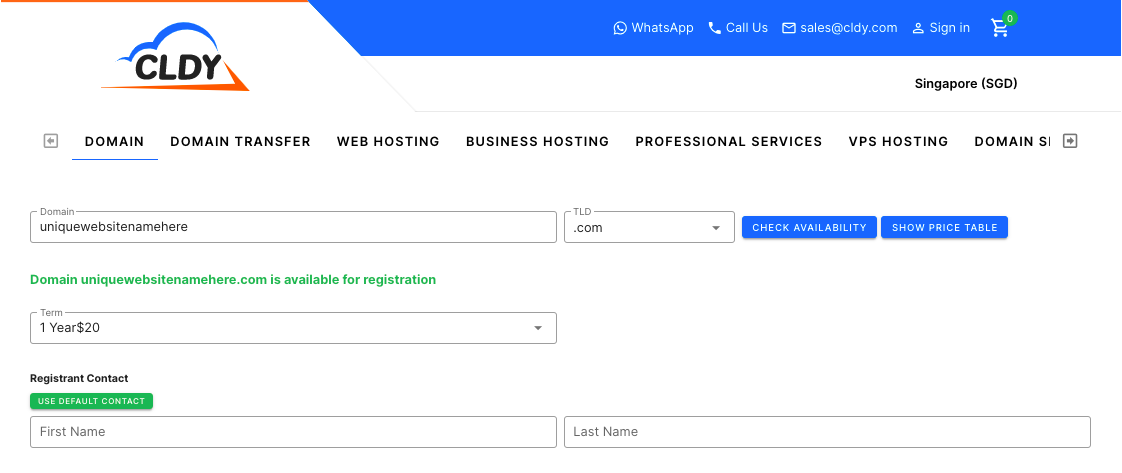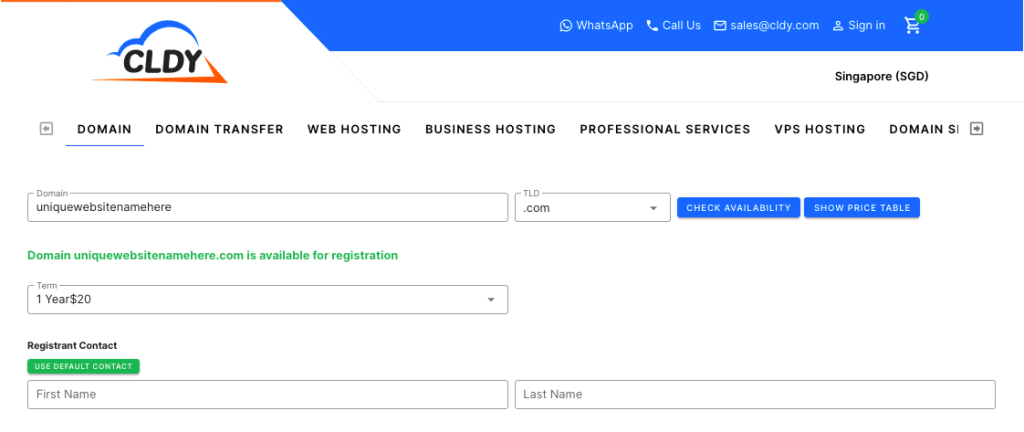 We recommend proceeding to the next step immediately after you find out your domain is available. You never know if someone's looking to register the same domain!
3. If your domain is available — complete the domain registration process
Once you're happy with your domain, complete the domain registration process. When registering with CLDY, you should be able to see the total cost and terms. 
The requirements needed to register your domain vary. For ccTLDs like .sg, you can register the domain as a business or individual registrant. You'll then need to supply your NRIC No./FIN No. (if you're registering the domain for personal use) or your UEN/Entity No./CorpPass No. (if you're a business or organisation).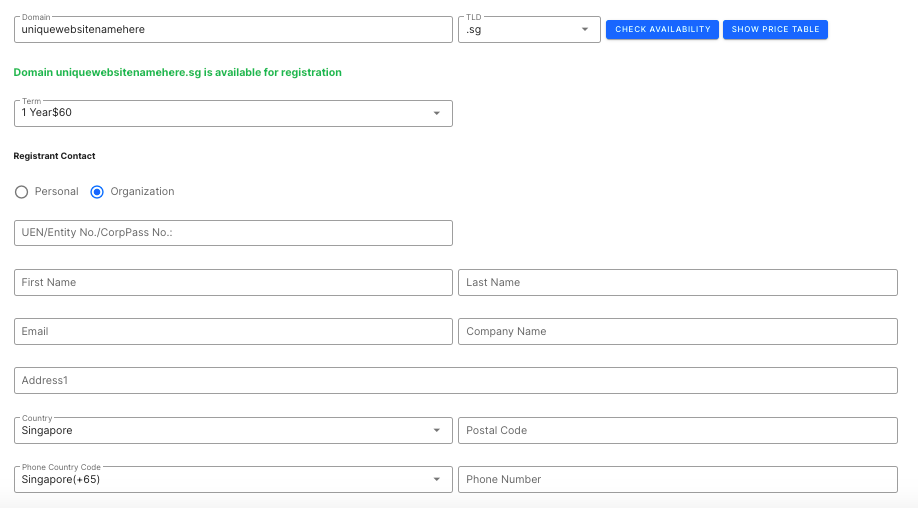 TLDs like .com, on the other hand, require basic information like your contact details and postal code.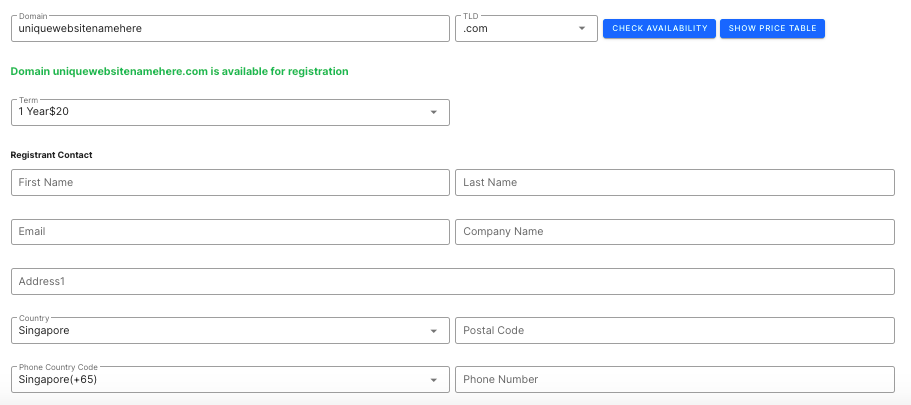 Once you've completed your purchase, your domain will be successfully registered.
How to buy a domain name that's already registered?
It happens to the best of us, you settle on your dream domain — only to find out that it's already registered.
The good news is that there's still a chance to purchase the domain from its current owner. If their contact details are on WHOIS, obtain their number or email address and connect with them from there. Simply send an inquiry asking if they're willing to sell their domain for a good price. 
While there's no guarantee they'll agree to a deal, it's worth the shot!
Another option is to try a different TLD. For example, if yoursgbusiness.com is no longer available, consider registering yoursgbusiness.biz or yoursgbusiness.xyz.
Get a great domain for your website today
The first step to launching a successful website is to secure a good domain. 
Domains establish your brand's identity and impact your website's rankings. You can add it just about everywhere — like your business cards and your email addresses. 
If you're looking for reliable domain registration in Singapore, consider CLDY.  With a team that shares over 60 years of web hosting and domain experience, you can guarantee your website is in capable hands. 
Reach out to CLDY today to get started.