In your choice of finding the right Cloud Hosting service to work with, there might be a hundred and one considerations why you would choose one company or the other. CLDY makes your choice simple: We are powered by a vision to put our clients first, and this is why we made sure that each of our products embodies the vision of our company: Speed, Simplicity, Stability, and Security.
We back the first four "S" of what we believe in with global-standard Support.
Overall, the CLDY principles are known as the "CLDY 5 Pillars of Strength," or the "5S.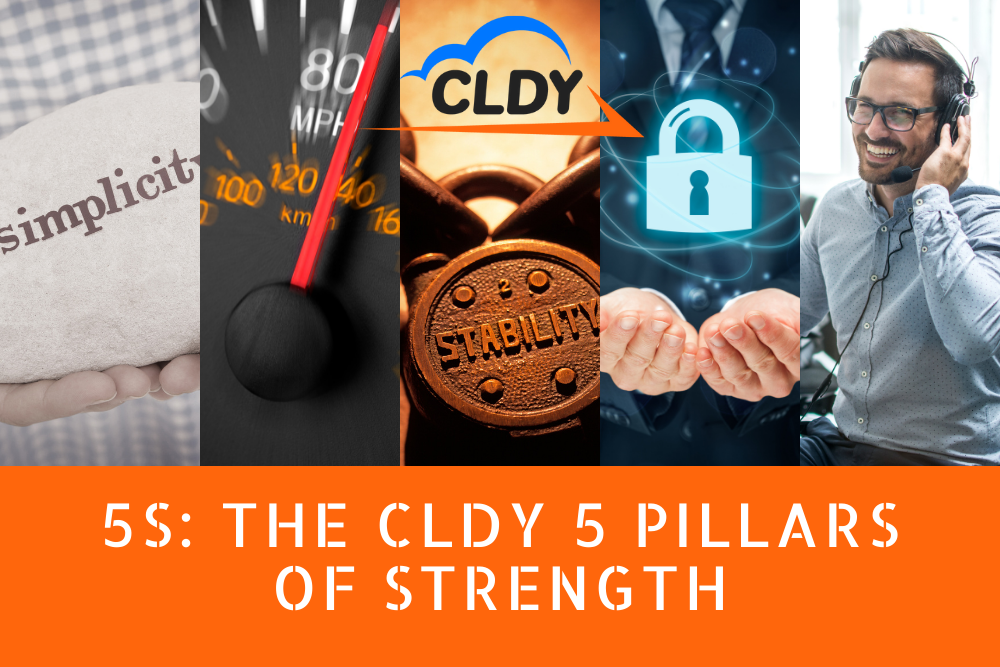 Our Systems
Legacy is out, responsive is in. But more than providing you with the infrastructure that supports responsive, mobile-friendly websites, CLDY systems are founded on cutting-edge cloud technology, hosted across the globe, with multiple redundancies and failsafe measures in place for complete Stability, and to fuel our 200% Uptime Guarantee.
Our infrastructure is also girded with highly secure systems, which ensure that your data is safe and protected from malware and malicious attacks.
On the human side, our Monitoring Team is composed of industry experts who have decades of experience in Systems Administration, working on 200% uptime for your web, email, and data hosting needs 24/7.
We believe that great design matters. We believe that ownership matters. This is why we invest in making sure that our people are constantly being trained to serve our clients to the best of their ability, only with bleeding-edge knowledge that's one step ahead of today's technology.
Driven By Support That Understands
CLDY endeavours to understand our customers―from your basic business needs, to the things that we've anticipated that you need, we work on handholding you every step of the way.
The way we do support is centred on understanding the customer first, then we put ourselves in our customers' shoes. We think as a user in the digital age, and as a support team, we work on being friendly and responsive in our drive to serve.
Our 24/7 technical support is provided through multiple communication channels, so you won't run out of ways to reach us. Our staff is highly trained and super technically competent, with a customer-centric mindset that will make sure that your troubleshooting needs are resolved in as few interactions as possible.
And yes. We make sure that you will feel highly valued, underscored with that personal touch.
Best Value
CLDY believes in providing the best value for your money, so our services are top-notch in terms of quality, but won't break your company's budget and will ensure that your overhead is kept at a reasonable minimum.
We will help you find the best plans for your needs, so that you and your business won't go over budget for features you don't really need, but still get the best quality services for what you actually need.
CLDY also makes sure that there are no hidden fees. When we present to you our plans, what you see is what you get, so there won't be any surprise expenses when you get your service invoices from us. We also believe that the best value for our clients lies in providing services that exceed expectations. This means that not only would you get top-notch email, website, and cloud hosting at affordable rates, but these are also super-scalable, and supported every step of the way by staff that understands your needs.
Our commitment is to deliver value to our clients. Our priority is to make sure that our clients' businesses, as hosted on our servers, thrive.
We know that as your bottom line grows, we grow with you, too. This is why our priority is YOU.
Our High Performing Team
CLDY understands that our top-notch, world-class products and services won't be delivered properly without a high-performance team to back them up. This is why we heavily invest in the core of our company―our people.
Our people understand where each of their actions and decisions come from―a shared sense of purpose based on CLDY's values: Simplicity, Speed, Stability, Security, and Support. Knowing the driving values behind the company's direction allows them to make their decisions accordingly, and that creates a cohesive team ready to serve YOU.
Our teams are deployed in highly-organised units who have clearly defined roles and responsibilities, so they know what to do, who depends on them, what they need to do to deliver, and why they need to deliver. Knowing all of that allows them to drive the bottom line: Deliver global-quality cloud products and services that fill our clients' needs.
Our team works hard to communicate clearly and respectfully, trusting that each will fill the dependencies that others need, in order to manage work and deadlines based on priorities. This way, our end-users will see nothing but the best products, services, and interface that the market can offer.
In any business, it is the people who power the infrastructure. CLDY wholeheartedly believes that, and this is why we have mobilised our people accordingly.
Our Effort To Ensure Consistency
Our teams know that consistency is key to delivering a product that's a cut above the rest, and stands the test of time. This is why it is CLDY's drive to make sure that each member of the team knows our product by heart. This in itself allows our team to creatively problem-solve, should issues arise. It also allows us to respond quickly to clients' needs, whether it's from the Sales pipeline, or down to troubleshooting incidents when they happen, as they happen.
It is also CLDY's drive to ensure that each product and service delivered to our clients is personalised right to their very needs. This ensures that we support each client's business the way it should be supported.
We also actively listen to your requests, because we know that there might be needs and features that we could and should innovate on. And since our drive is Growth, we ensure that our products and services grow with you.
Therefore, when it comes to support, all eyes are on you. We make sure that our objective and focus are on providing you with a great experience with our products and services. This is why we always retain a pleasant attitude when we serve you; we assist you in helping yourself, and we gladly step in when you require our expertise.
Your Business First
We understand that you chose CLDY as a cloud hosting provider because we embody what a business needs in a cloud hosting provider: Speed, Simplicity, Stability, Security, and Support.
Relying on bleeding-edge systems and technologies allows us to deliver top-notch Speed, Stability, and Security, serving up overall top performance. And we give you simplicity in your experience with us, underscored by highly competent expert support, so that working with us would always be seamless and trouble-free.
Because we put your business first, you will have peace of mind that your data remains safe and secure, in stable systems across the globe. And because we have put their business first, our clients from decades of business relationships trust us.
This decades-old trust, delivered by decades-old proven competence and expertise is what sets us apart from the competition, and why you would want to work with CLDY.